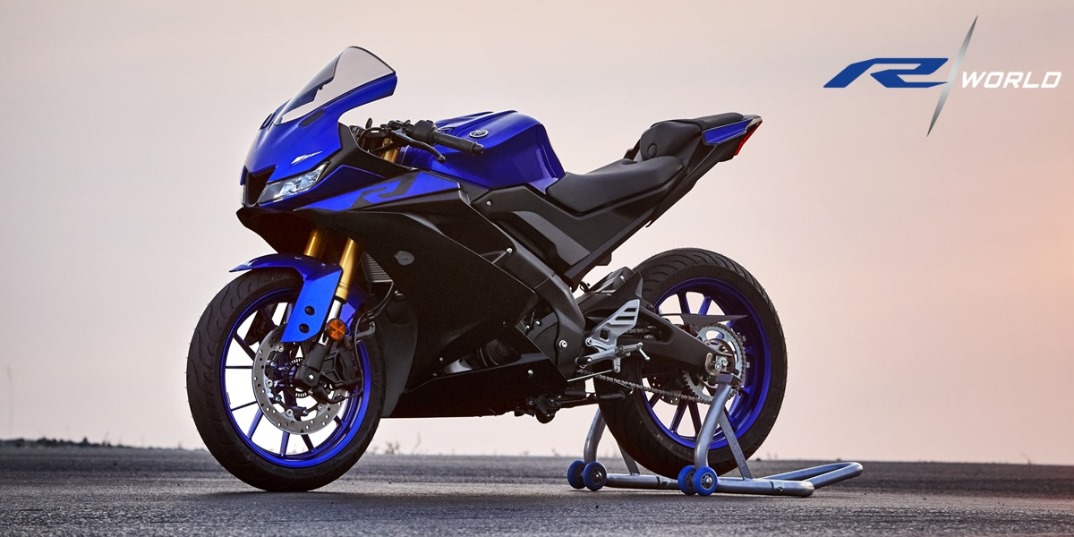 Re-define your reality
Exactly 20 years ago the first Yamaha YZF-R1 completely changed the face of the Supersport segment.Built without compromise to the highest specification and delivering the most exhilarating levels ofpower with outstanding agility and unmatched street presence, this seminal motorcycle created RWorld- and paved the way for the development of today's high-tech R-Series models.
With one of the widest selections of high-performance models covering the market from 1000ccthrough to 125cc, Yamaha's R-Series motorcycles continue to set the agenda. Aimed at thrill-seekingriders who are looking for class-leading performance on the street and track, each R-Series supersportbike delivers an adrenaline-charged ride every time, and is built to redefine your reality.
Featuring the most dynamic and exciting styling that has been created with R-series DNA, the all-newYZF-R125 is the most advanced 125cc supersport ever developed by Yamaha. Fitted with an all-newhigh-tech engine that gives stronger acceleration and a much wider spread of power from low rpmthrough to high speeds - while the new chassis and ergonomic layout delivers easy agility with highstability, while also enhancing the bike's everyday comfort and practicality.
Its aggressive YZF-R1 inspired looks include a racy and aerodynamic front fairing and MotoGPinfluenced cockpit design, giving this 125 a serious and extreme image that underlines its trackpotential - and with its premium quality finish and high-quality engine and chassis components, theall-new YZF-R125 is Yamaha's ultimate 125cc supersport.
All-new 125cc engine featuring a Variable Valve Actuation system
The Yamaha YZF-R125 is already widely known as one of the strongest performing models in the 125supersport class. For 2019 the liquid-cooled, 4-valve engine has been completely redesigned targetingmore torque and broader, smoother power while improving the fuel efficiency too.
One of the most significant pieces of new technology is the Variable Valve Actuation system (VVA)that optimises the valve position in relation to engine rpm. By giving idealised inlet and exhaust valveoperating characteristics at all engine speeds, VVA enables the YZF-R125 rider to experience strongertorque for better acceleration from low to mid rpm, combined with stronger performance at higherengine speeds.
The new engine also benefits from a redesigned fuel injection system equipped with a wider throttlebody that gives a smoother feeling for enhanced controllability. There's also a refined cooling systemthat reduces engine warm up time and improves cooling efficiency at higher engine temperatures -and this increased cooling efficiency allows for the fitment of a lighter and more compact radiator.
Higher combustion efficiency
As well as the installation of the power-boosting VVA system, the new engine features a completelynew 4-valve cylinder head that benefits from larger and shorter intake and exhaust valves. Yamaha'sengineers have also decreased the size of the combustion chamber, and the result is a much higherlevel of combustion efficiency that contributes towards the new YZF-R125's wider spread of useablepower and also helps to increase fuel efficiency. These developments also contribute to producing anemotional sound for the exhaust.
New Deltabox frame with optimised geometry
All R-Series models are renowned for their lightweight agility on the road or track, and the 2019 YZFR125chassis has undergone a range of major changes that are designed to underline this model'sstatus as the definitive 125 supersport.
Newly designed lightweight aluminium swingarm
The refined chassis now comes equipped with a newly designed lightweight aluminium swingarm thatcomplements the revised dimensions of the new frame. Manufactured using Yamaha's advancedcasting technology, this shorter swingarm ensures optimised rigidity with low unsprung weight for asporty, agile and comfortable ride.
Refined A&S (Assist and Slipper) clutch
To enable every YZF-R125 rider to experience the highest levels of controllability during braking andacceleration, the new model is equipped with a refined A&S clutch. New clutch springs give a lighterfeel at the lever for more comfortable and precise operation, while the design gives good driveabilitywhen accelerating and also prevents the rear-wheel locking during deceleration.
Sleek and aggressive YZF-R1 inspired body design
The looks and character of the new YZF-R125 have been shaped by the same dynamic R-Series DNAthat makes the YZF-R1 one of the most respected bikes on the street and track.
New dual full LED headlights and a YZR-M1 type front fairing underline the fact that this bike is anintegral part of the iconic R-Series family - and the premium finish is evident in the wide range of highquality components including the handlebar crown and painted front fender. Even the tail gets thefull YZF-R1 treatment, and the all-new rear end comes with race-bred air ducts and a 12-LED tail light.
New 11-litre capacity fuel tank
The sleek and sporty design of the new YZF-R125 inspired body is complemented by a new 11-litre fueltank that is designed to be easily removed when access is required during routine maintenance.Featuring beautifully-finished close-fitting external panels, the shape of this stylish new tank givesexcellent knee grip and allows the rider to adopt a range of positions to suit both low and high speedriding.
Redesigned MotoGP-inspired cockpit features
Every R-Series model can trace its heritage back to the race track, and as well as its pure YZF-R1 DNA,the new YZF-R125 also features a new lightweight handlebar crown design inspired by Yamaha's YZRM1MotoGP race bike. There's also a MotoGP-style brake lever protector, and the whole look and feel ofthe new cockpit illustrates this class-leading 125's race-bred genes.
New high-visibility LCD instruments
To reinforce the connection between the bike and rider, the newly designed instrument panel displaysa personalised greeting as soon as the ignition is turned on. As well as the easy to read central bar-typetachometer and large digital speedometer, this stylish and sporty multi-function LCD display alsofeatures a shift timing light, gear indicator and VVA status display.
More flexible riding position
Important changes for 2019 are designed to give increased levels of rider and passenger comfort. Newhandlebars with a more open and horizontal position are designed to give an idealised balancebetween the sporty riding and everyday comfort - while both seats have been redesigned and nowfeature thicker foam. These measures - together with the reshaped fuel tank and new aluminium rearset footrests - make the new YZF-R125 a more comfortable and practical bike without compromisingits thrilling supersport character.
Like the fuel tank, the lockable seat can be easily removed when access to the engine is required,making routine maintenance quick and easy.
New wider 140-section rear tyre
To optimise the increased overall performance offered by the new engine and revised chassis, the YZFR125is fitted with a wider 140-section rear tyre. Designed to give a good balance of grip and durability,this new 140/70-17 rear tyre offers improved stability together with better handling, and its wideprofile accentuates the aggressive looks of this 125cc supersport.
Improved brake feeling
The 292mm front disc and 230mm rear disc deliver strong performance with plenty of feedback, andfor 2019 this class-leading system is further refined by a revised brake hose layout and a new rear brakecaliper with different specification pads giving an even better braking feel and more control.
Key features
New 125cc engine with Variable Valve Actuation system
Increased combustion efficiency for smoother power
Revised Deltabox frame gives excellent rigidity
New aluminium swingarm for agility and stability
Lighter and more precise Assist & Slipper clutch
Sleek new R-Series body, twin-eye LED headlights
Newly-designed fuel tank with 11-litre capacity
All-new YZR-M1 MotoGP-inspired cockpit
Sophisticated new high-visibility LCD instruments
Improved ergonomics for enhanced riding position
Wider rear tyre for sharper roadholding and style
Refined and improved braking feeling
Ultimate 125 R-Series supersport