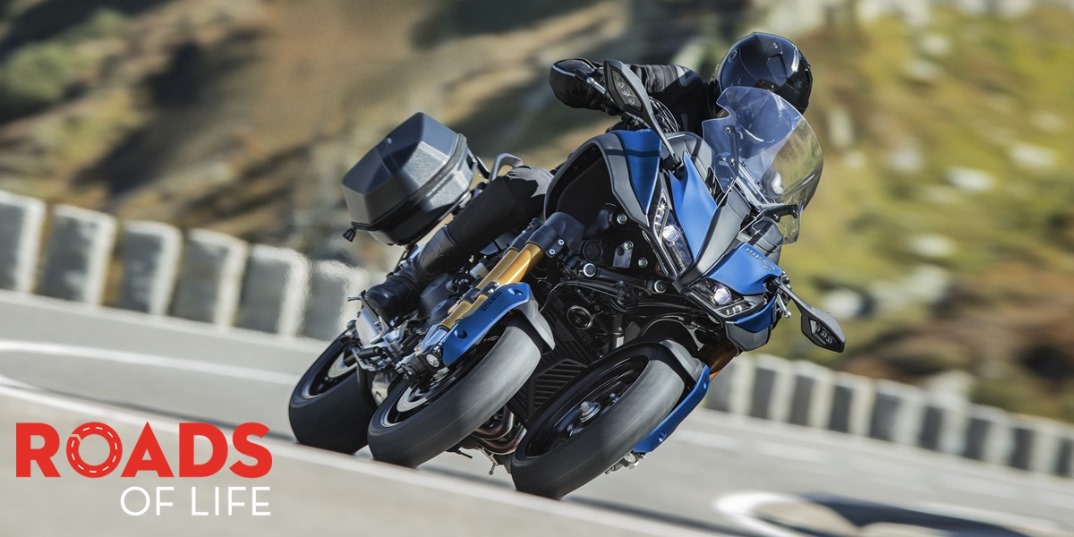 New 2019 NIKEN GT to expand the Sport Touring Segment
Opening the Roads of Life to every rider
Yamaha has always been committed to creating innovative and exciting designs that give the best possible choice. More than anything, motorcycling is about freedom, and Yamaha's goal is to make bikes that are ready to take motorcyclists to new places and make lasting memories on the Roads of Life.
With the addition of the NIKEN to the Sport Touring segment, Yamaha now has very distinctive and clearly defined model groups within this category - namely the NIKEN, Tracer and FJR1300 models. This diversity puts the company in the unique position of being able to offer the ultimate selection of 3-wheel and 2-wheel motorcycles that can satisfy every customer's need.
Yamaha is totally dedicated to making Sport Touring motorcycles more accessible to everyone with a 2019 line up that is wider than ever before. From the very affordable Tracer 700 and new Tracer 700GT, right through to the exclusive high end NIKEN GT, Yamaha has the power to open the Roads of Life to every rider.
NIKEN: Ultimate corner carving experience
In 2018 the launch of the radical NIKEN 3-wheel motorcycle brought a whole new riding experience tothe motorcycle world.
Equipped with innovative Leaning Multi-Wheel technology and dual tube upside down forks, the NIKEN is built to deliver the most amazing corner carving experience together with higher rider confidence in all conditions. With a larger contact patch between the tyres and the road surface, the two leaning front wheels give increased levels of front end grip that is particularly noticeable during cornering and braking, and it is this unique and dynamic characteristic of the NIKEN that makes it feel and handle like no other motorcycle.
Feedback from the public who have participated in the 2018 NIKEN Demo Tours across Europe has confirmed that this ground-breaking motorcycle is already winning over many motorcyclists who - quite understandably - initially viewed the whole 3-wheel concept with a degree of caution.
Those riders who have had a chance to evaluate this high specification 3-wheel Sport Tourer confirm its remarkable ability to corner with increased confidence even in adverse weather conditions, with many potential customers confirming that the NIKEN's handling has genuinely brought a new dimension to the Sport Touring segment.
The key to understanding the attraction of NIKEN is to ride it, and with the model now arriving at Yamaha dealers, those who have been unable to attend the European NIKEN Demo Tour can discover the unique 3-wheel riding experience for themselves.
When it comes to new or unfamiliar technology, many people - including motorcyclists - can often resist change and stick to what they know. But the NIKEN has shown that riding is believing, and with its proven ability to deliver the most exciting corner carving experience, this unique motorcycle is introducing a new era in Sport Touring design.
New NIKEN GT: Turns have no seasons
The NIKEN's 3-wheel concept has won over the vast majority of riders who have taken the time to opentheir minds and try something new. Designed to master adverse conditions, the NIKEN is ideally suited to all-weather, 4-season riding on the most challenging mountain roads.
Fitted with a range of special equipment, the new NIKEN GT brings added functionality to the 3-wheel concept by offering increased long distance touring capabilities together with elevated levels of rider and passenger comfort.
The NIKEN GT's higher screen gives greater upper body protection from the wind and weather, and the specially designed comfort seat enhances the sport touring experience for both the rider and passenger. Premium quality 25-litre ABS semi-soft side cases are light, compact and easy to handle - and for added convenience the rear of the carrier base features integrated passenger grips.
Heated grips ensure riding comfort in all weather conditions and keep the rider informed of the warmth level on the instrument panel - and there's also an extra 12-V outlet to power or charge various devices. The GT model also comes fitted with a main stand that facilitates convenient parking as well as routine chain maintenance and tyre inspections on longer trips.
With its innovative 3-wheel design and radically styled bodywork, the NIKEN is always going to be the centre of attention wherever it travels - and for added exclusivity the new NIKEN GT is offered in two new model-specific colours - Nimbus Grey with black front forks, and Phantom Blue with gold front forks.
NIKEN GT Exclusive Features
All-weather 4-season long distance Sport Tourer
High screen
Comfort seat
Heated grips
Semi-soft 25-litre ABS side cases
Rear carrier base with passenger grip
Main stand
Second 12-V DC outlet
Dedicated GT body colours and front fork finishes
NIKEN GT and NIKEN Key Features
Most innovative design in the Sport Touring class
Unrivalled corner carving experience
Feelings of front end grip, confidence and braking on all surfaces
Radical, bold and unique 3-wheel design
Advanced leaning multi-wheel technology
Deep lean angle, maximum 45 degrees
Ackerman steering, double upside down front forks
Fully adjustable rear suspension
847cc, 3-cylinder, liquid-cooled, DOHC CP3 engine
TCS, QSS, A&S clutch, D-MODE, Cruise Control
Hybrid steel and aluminium frame